Leeds Stand Up to Racism action meeting – Tuesday 7 November, 6.30pm, Leeds UNISON offices, 160a Woodhouse Lane (opp Fenton pub) LS2 9EN – all welcome – come and get involved in the discussion on how to take on the rising tide of racism locally and nationally and plan future events.
Confronting the Rise in Racism 2017 – national Stand Up to Racism conference
Saturday 21 October,
Friends Meeting House
173-177 Euston Rd
London
NW1 2BJ
Speakers confirmed include Diane Abbott MP, Kevin Courtney NUT Gen Sec, Dave Ward CWU Gen Sec, Kate Osamor MP Shadow DfID Secretary, Catherine West Labour MP Hornsey and Wood Green, Claude Moraes Labour MEP, Shahrar Ali Green Party Home Affairs spokesperson, Lowkey, Talha Ahmad Muslim Council of Britain Treasurer, Maurice Wren Chief Exec Refugee Council, Moazzem Begg former Guantanamo Bay detainee, Clare Moseley Care4Calais founder.
Register for the conference here:
https://www.eventbrite.co.uk/e/confronting-the-rise-in-racism-2017-tickets-35900328850
There is  transport going down from Leeds – tickets £15 /£10  – please book your place here
https://www.eventbrite.co.uk/e/confronting-the-rise-in-racismstand-up-to-racism-national-conference-tickets-38690691901
http://www.standuptoracism.org.uk/
For more events etc please follow Leeds Stand Up to Racism on facebook or twitter –
@SUTRLeeds
Other events – Yorkshire peace demonstration for the Rohingya people – Saturday 30 September, 12noon Leeds City Art Gallery.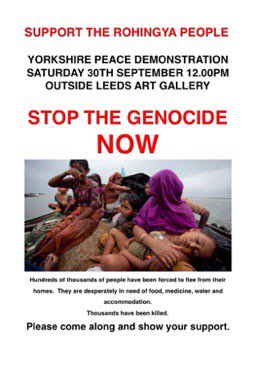 Sunday 1 October – say no to racism and austerity – protest at Tory party conference in Manchester – transport from Leeds TUC via here:
https://www.eventbrite.co.uk/e/tories-outno-more-austerity-scrap-the-pay-cap-decent-jobs-for-all-tickets-37766439437